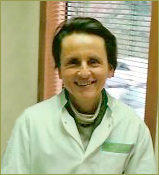 As a board–certified Naturopathic Physician licensed in the state of Washington, I graduated from Seattle's Bastyr University and have been practicing since 2007.
For nearly 20 years before coming to the U.S. in 2000, my work has been dedicated to innovative approaches to holistic healing for both individuals and the environment.

After earning a Masters degree in Medical Technology at the Medical Academy in Krakow, Poland, I became an instructor for Pharmacology, Lab Chemistry, and Homeopathy at the Medical College in Krakow.
As an instructor at the Goetheanum University near Basel, Switzerland, I taught Goetheanistic methodology in natural sciences and holistic medicine. This approach focuses on scientific yet holistic method to develop a patient's cognitive, emotional and physical well being, along with innovative ways to design natural remedies for physical conditions and to support the capacity for self-healing.
Additionally, I was director and instructor at the Institute for Consciousness of Time in Switzerland, which had several specialty areas addressing holistic rehabilitation of cognitive and learning disorders.
For nearly 15 years, I have served as a consultant to health care practitioners in Europe on cognitive, sensory and motor rehabilitation of developmental impairments including autism, attention and learning disorders, obsessive-compulsive disorders, depression, mania, dyslexia, and Down syndrome.

I have additional medical training in Pain Management, Autonomic Nervous System Rehabilitation, Autonomic Response Testing, Autism Therapies, Rehabilitation of Neurodevelopmental Disorders, Environmental Medicine, Therapeutic Injection Therapies, Apitherapy, Homotoxicology, Visceral Manipulation, Cranio-Sacral Therapy, Nogier Auricular Medicine, and Advanced Laserology (in Pain Medicine).
I am also trained in classical and non-classical Homeopathy, and am a Diplomate of the Homeopathic Academy of Naturopathic Physicians and am certified by the Council for Homeopathic Certification.

From 1985-93, I was director of a small private farm and research center for biodynamic agriculture, ecological restoration, and phytotherapy in Poland.
For the next decade, I served as an international consultant to organic and biodynamic farmers and several small homeopathic and biological medicine companies.

American Association of Naturopathic Physicians,  Washington Association of Naturopathic Physicians,  American Botanical Council,  National Center for Homeopathy, Homeopathic Academy of Naturopathic Physicians, Naturopathic Academy of Therapeutic Injection, Oncology Association of  Naturopathic Physicians,  American Holistic Medical Association, and International Society for Orthomolecular Medicine.